8 BEST DESIGN OFFICES IN THE WORLD BY MAKTE!
You just returned from vacation and you opened the office door. How did you find it?
You just returned from vacation and you opened the office door. How did you find it?
What about changing something? Surfaces, covering, materials, details! We're pretty sure that some renew increase your inspiration and productivity. In these days, we will introduce you to a selection of the most stimulating interior design of offices in 2018. Let yourself be inspired by Makte!
SALGAS CANO – MADRID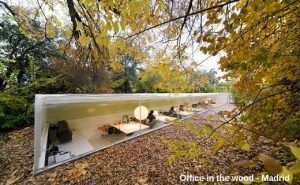 Have you ever thought of working in an office in the wood?! The spanish architects studio SelgasCano design this particular office near Madrid, made by 20mm thick, curved windows through which you can admire the beauty of nature. It will certainly be an extremely relaxing place that will stimulate creativity!
MICROSOFT VIENNA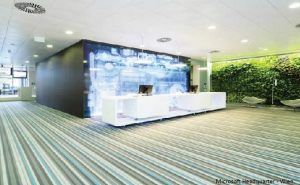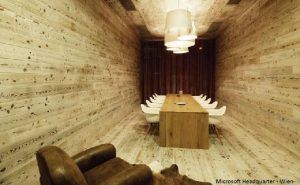 Looking at the Wien Microsoft building for the first time, a thought went through our minds: "think different" (no offense taken, Apple!). Using colours and materials, each and every area is designed to have a different atmosphere: from waiting rooms and halls in relaxing green, to wood-covered meeting rooms, warm and soothing ; from the giant screens covering the reception walls, to the multi-colour glass of the offices. Each environments is differently designed, to improve the quality of work (as well as life).
INVENTIONLAND PITTSBURGH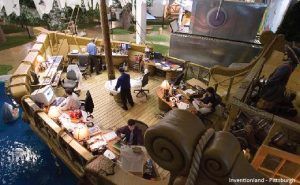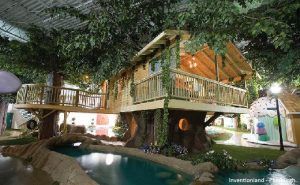 Welcome to Inventionland, a Pittsburgh-based company of 6500 square meters with the craziest offices in the world! "The best work comes out of the spirit of play". If even your owner thinks like the CEO George Davison, you should not be surprized if your office is located inside a pirate ship, a cave, a castle, a giant robot or a small house with an artificial lake.
BARBARIAN GROUP – NEW YORK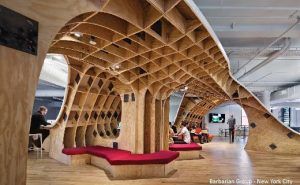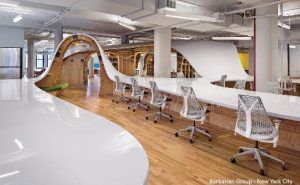 "Today we're going to sit at a single work table". It must be what the CEO of the offices of Barbarian Group, a leading company in the web and viral marketing sector, though. The top surface of a 340 meter long table is an ethereal pearlescent white, with a clear epoxy coating, so the fluid nature is emphasized. The mission of the Barbarian Group is to connect not only the consumer experiences of its customers, but also to connect all the colleagues by putting them all on the same…work plan.
GOOGLE – TEL AVIV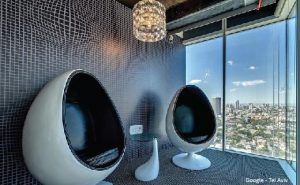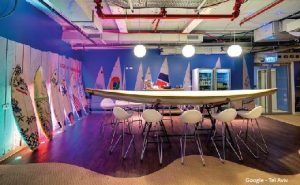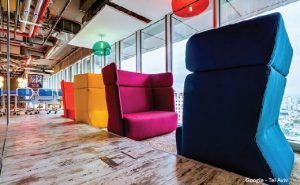 Once again it's not only Apple that thinks otherwise. Entering the offices of Google Tel Aviv, means working, or rather living, in "thousand"different locations. Eight floors and 7800 square meters carefully set up with orchards, armchairs in "Alice in wonderland's style", furnishing accessories of spaceships or country lanes instead of corridors. The interior design conceived by Camenzind Evolution, Setter Architects and Studio Yaron Tal is entirely designed to give space to concentration, creativity and sharing of ideas.
OGILVY & MATHER – GIACARTA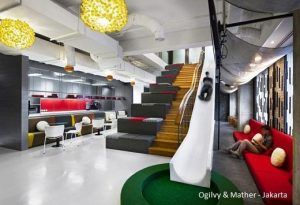 Giakarta is one of the most cahotic cities in the world. But when one enters the well-know communication agency Ogilvy & Mather Giakarta, the heartbeat and blood pressure dropped immediately. "The whole idea was to create a sharp contrast to what's outside, because the traffic might be really bad, and maybe it takes a long time to get to work. You might be stressed out before you even get to work." From these words of Ramesh Subramanium of the M Moser Associates studio of anchitecture and design, it follows a concept design aimed at achieving only one goal: peace and calm, with wooden tones, and slides instead of stairs that are set against white walls and modern furnishing
COMVERT – MILANO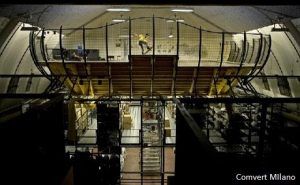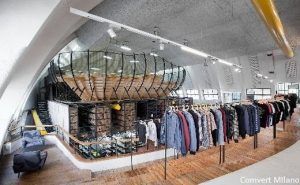 The milanese studio Studiometrico converted an old 1940s cinema into the new headquarter of Comvert, an italian company that manufacturers and distributes clothing for skateboarders and snowboarders under the Bastard brand. The new space of 1400 sqm includes offices, a wareahouse, a showroom, a covered skateboard ramp and a 144 sqm bowl made from laminated timber and beams in steel completely at the disposal of the staff and guests. A personalized space that stimulate creativity and most of all..dynamism!
NOKIA – CALIFORNIA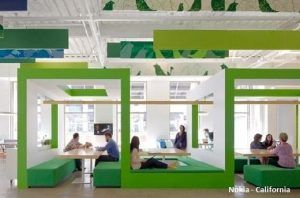 Stimulate creativity with color therapy! The design and architecture firm Gensler has understood this well, and designed the new offices of the Nokia headquarters in California each with a different color, so as to stimulate and impress the minds of employees in differents ways. Blue to relax, yellow to stimulate concentration, red distracts from negative thoughts and green gives joy. Comformtable and modern furnishing, large relaxing areas and attention to details, underline the desire to make the employees feel at home.