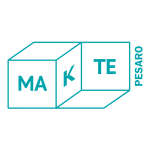 MAKTE PESARO
MAKTE PESARO
Se.Pa. Srl is a long-established Pesaro company with outstanding wood products know-how, operating internationally.
It became a Makte business partner in 2018, and on 25 May it opened the Makte Pesaro showroom, a materials library displaying thousands of interior and exterior design surfaces.
By opening Makte Pesaro, SE.Pa. became the key point of reference for architects, designers and furnishing professionals in the northern Marches region.
Aided by this partnership, Se.Pa. srl expanded its product catalogue to supply a range which guarantees the availability and delivery of any surface very fast and always on time.
From the most versatile materials to special products for unique projects, and from laminates to solid surfaces: the company has thousands of types of surfaces for any application. (Click here to explore the entire Makte catalogue)
Makte Lab provides Se.Pa with two specialist units (see more at Makte Lab) able to transform any material, thanks to highly innovative machinery at the technological state of the art.
Through its membership of the Makte Academy circuit, Se.Pa. organises accredited training events, to provide updates on new trends and expand the opportunities for business between surface producers, transformers, designers, architects and construction professionals.